Author: Fresh Thyme Market
Build A Better Breakfast With Fresh Thyme
Breakfast is often called the most important meal of the day, but how valuable it is to your health depends on what you eat.
Breakfast is often called the most important meal of the day, but how valuable it is to your health depends on what you eat. Some of us skip it altogether, while others rush through it with fast-food pickups or prepackaged snacks—hardly the hello we would want to give our most important meal. If your breakfast choices aren't the best ones for your body, choose to make a few improvements that promise to better satisfy your appetite and increase energy.
Customize morning meals—or any meal—by following our Balanced Breakfast Chart. The carbohydrates in oats, fruit, and whole grains provide energy boosts and fiber, for a feeling of fullness that staves off snacking. The protein in yogurt, protein powders, and eggs goes toward building the body and repairing muscles and tissues.


Try Fresh Thyme's ramped-up breakfasts for these popular daystarters: eggs and toast, oatmeal, breakfast burritos, and pancakes. Each meal is transformed from GOOD to BETTER with ingredients that lighten and freshen the breakfasts.
EGGS AND TOAST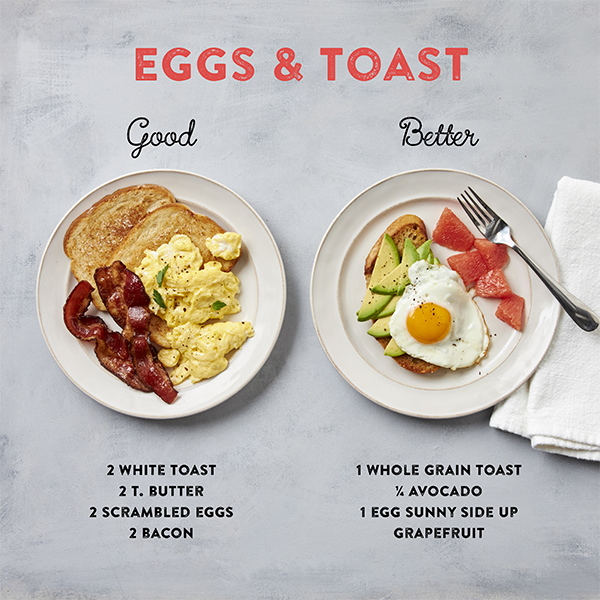 Name a more iconic breakfast duo. We can't. Eggs and toast, the simple culinary combo, offers good nutrition without much prep time. If you have 10 minutes in the morning, you have the time to make this easy, efficient morning meal. Eggs are an excellent source of protein and are a perfect compliment to an overall heart-healthy diet. The carbohydrates found in toast are a diet essential, providing nutrition and energy throughout the day.
To take this breakfast up a notch on the nutrition scale, toast whole grain bread in place of white bread, spread on mashed avocado in place of butter, and include a serving of vitamin-rich grapefruit instead of bacon. Whole grains provide fiber, aid digestive health, and may help prevent the onset of type 2 diabetes and heart disease. Avocado, with healthful fats, is a satiety superstar that will help you feel full longer.
Good:
2 slices white toast
2 Tbsp. butter
2 scrambled eggs
2 slices cooked bacon
Better:
1 slice whole grain toast
¼ avocado, sliced
1 egg sunny-side up
Grapefruit
OATMEAL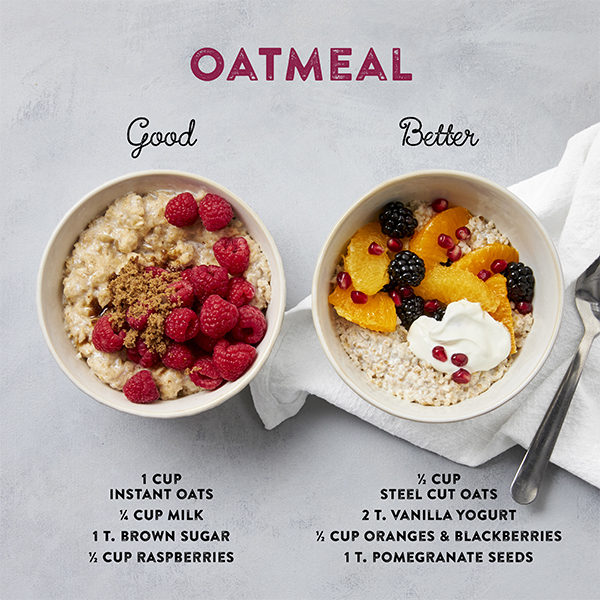 A warm, filling breakfast that can be prepared quickly? Count us in! A versatile pantry staple, oatmeal—in its various forms—can be on the table in short order, prepped hours ahead, or simmered low and slow. Take your pick, then add stir-ins or toppings to suit each taste. Oats are considered a heart-healthy food choice because fiber regulates insulin levels, improves digestive health, and contributes to weight management.
Toppers, such as brown sugar and berries, are traditional oatmeal pairings, but you can pack in even more nutrition and flavor. Oatmeal is a blank canvas—make it sweet or savory. Flavor and add texture with any of these: favorite fresh or dried fruit, nuts and nut butters, seeds, yogurt, milk, syrups, jams or jellies, chocolate chips, spices, eggs, or green onions. For variety use a combination of ingredients. For example, cook hearty steel-cut oats in place of rolled or quick oats; stir in chopped nuts of dried fruit toward end of cooking time; dollop with yogurt in place of milk; then top with vitamin-C filled citrus and pomegranate seeds.
Good:
1 cup instant oats
¼ cup milk
1 Tbsp. packed brown sugar
½ cup raspberries
Better:
½ cup steel-cut oats
2 Tbsp. vanilla yogurt
½ cup cut-up oranges and blackberries
1 Tbsp. pomegranate seeds
BREAKFAST BURRITOS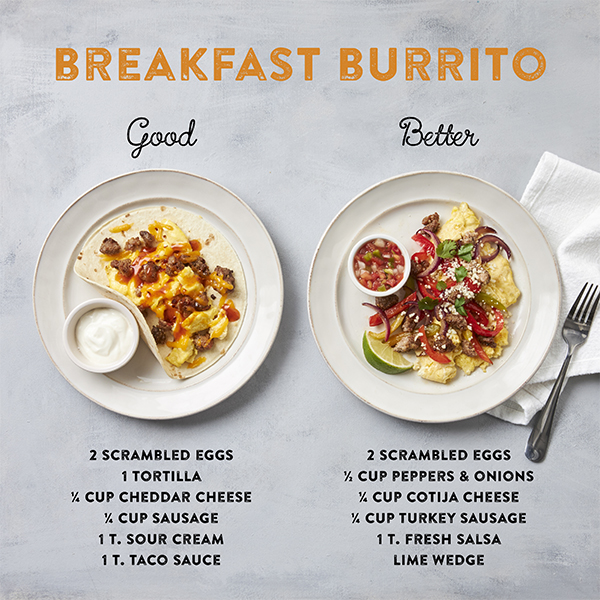 This Tex-Mex option, packed with eggs, meat, and cheese, has become a savory breakfast standard. All wrapped up in an easy-to-eat package, a burrito provides a good dose of protein for energy and satiety. Exchanging a few heavy fillings for lower calories and healthier fats will heighten the benefits of this meal.
For a healthy update that's just as hearty, skip the tortilla. Instead, lightly sauté fresh veggies. In a bowl, top eggs and veggies with flavorful Cotija cheese, which is equal to Cheddar in protein but lower in calories. Keep the dish light with a spoonful of fresh salsa in place of bottled taco sauce. Plain Greek yogurt can be used as a lighter, protein-rich substitute for sour cream. Drizzle with a fresh lime for a zing of flavor to top this wholesome breakfast.
Good:
2 scrambled eggs
1 tortilla
¼ cup Cheddar cheese
¼ cup sausage, ground and cooked
1 Tbsp. sour cream
1 Tbsp. taco sauce
Better:
2 scrambled eggs
½ cup peppers and onions, sliced
¼ cup Cotija cheese
¼ cup turkey sausage
1 Tbsp. fresh salsa
Lime wedge
PANCAKES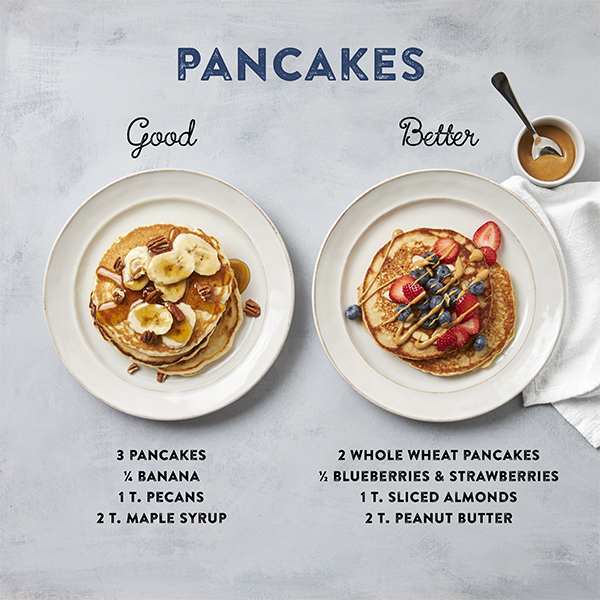 Stack the odds in your favor with a tasty twist on the traditional pancake breakfast. If you like to pile on the toppings, this one's for you! The grains in pancakes, full of important nutrients like iron and fiber, can aid in digestive health. And fresh fruit and nuts contribute vitamins, minerals, and healthy fats.
Flip the nutrient level of the stack by exchanging whole-wheat pancake mix or swapping whole wheat flour in your pancake recipe for all white flour. Whole grains contain vitamins, nutrients, and fiber that help promote healthy digestion and heart health. Top flapjacks with mixed berries (antioxidants), sliced almonds (fiber, protein, healthy fat), and, in place of syrup, a small scoop of peanut butter to melt down the stack.
Good:
3 pancakes
¼ banana, sliced
1 Tbsp. pecans
2 Tbsp. maple syrup
Better:
2 whole wheat pancakes
½ cup blueberries and strawberries
1 Tbsp. sliced almonds
2 Tbsp. peanut butter