Author: Fresh Thyme Farmers Market
From Farm To Fresh Thyme - How Produce Gets To Your Store
Ever wonder about the food you buy? Here's a behind-the-scenes look at how that food is grown, harvested, and shipped to Fresh Thyme stores.
Americans spend a lot of time picking out fresh produce—the best apples, the freshest greens, the ripest tomatoes. As you go through the Produce Department at Fresh Thyme, take a closer look at a cantaloupe, for example. You know to check for blemishes or to thump it to see if it sounds ripe. But have you ever stopped to wonder about the backstory behind that particular melon? Perhaps you mused about where it was grown. Was it the state next door—or the other side of the country? How was it grown? Was it treated with noxious chemicals? How long ago was it harvested?
Fresh Thyme is here to answer those questions and more. We believe in food transparency, and you deserve to know about the food you feed your family. Our produce is clearly labeled according to USDA regulations and meets all federal guidelines. Look for the helpful signs signs throughout our stores, which tell you about a fruit or vegetable, the farm it came from, nutrition data, and even cooking tips.
In this time of uncertainty, we understand what matters when it comes to the health of you and your family. Fresh Thyme has always focused on living healthy, and we're committed more than ever to give you real solutions and the tools you need to manage your health. With Fresh Thyme as your trusted partner, you can develop new habits that will lead to a heightened well-being.
WATCH: SHOP THE MIDWEST AT FRESH THYME
THE FRESH COMMUTE


Our customers may be our bread and butter, but our farmers provide the wheat and cream. Fresh Thyme buys goods from farmers to sell to you, the customer. Fresh produce is perishable and can't be stockpiled, so where that produce comes from impacts what we stock in our stores. That part of the equation is easy for Fresh Thyme—our stores are located squarely in the Midwest: Minnesota, Wisconsin, Michigan, Illinois, Indiana, Ohio, eastern Nebraska, northern Missouri, and western Pennsylvania (a step or two outside the Midwest).
Much of our fine produce is grown in the Midwest—"America's Breadbasket," as it's called, and the heart of farming. In fact, some of our Fresh Thyme fruits and vegetables are grown just down the road from our stores.
We partner with Midwestern farmers because it gives us the freshest possible produce to sell to you—at its most delicious. Fresh fruit and vegetables grown near our stores spend less time in transit and less time in storage, compared to food grown and shipped from far away. When produce arrives at a Fresh Thyme store, it's so fresh it's at the peak of ripeness, which means it's bursting with nutrition as well as flavor.
While partnering with Midwestern farms makes good fiscal sense, it's also the right thing to do. Buying locally reduces our carbon footprint and helps Fresh Thyme support our nearby farms and communities. Your purchase helps provide that support and is greatly appreciated.
A LOOK AT OUR FARMS


The Midwest boasts fertile fields, ideal weather to grow and ripen produce, and growers who embrace new growing practices, including organic, natural, and clean farming.
World Wide Farms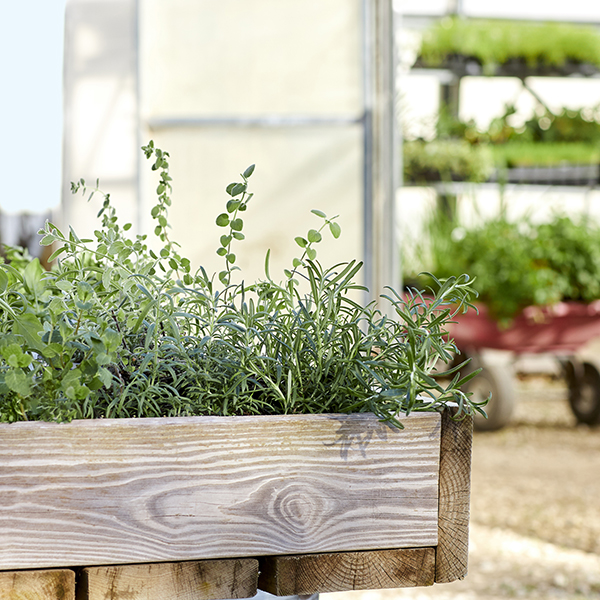 World Wide Farms, the grower for Fresh Thyme's fresh herbs. Based in Wauconda, Illinois, World Wide Farms was founded in 1986 by Vern Meyer. Vern and his team grow organic produce bio-dynamically, which means they nurture and amend the soil each season. The herbs develop into strong, healthy plants, with high nutritional content and lush aromatics. To further extend the growing season, the team incorporates the latest controlled environment technologies in greenhouses, following the same bio-dynamic principles as used outdoors.
Todd Greiner Farms


Todd Greiner Farms in Hart, Michigan, has a similar approach. The farms, environmentally certified by the Michigan Agriculture Environmental Assurance Program, follow an innovative, proactive program for farms of all sizes and commodities to voluntarily prevent or minimize agricultural pollution risks. The hybrid asparagus at the farm is grown on sandy loam to 8 to 11 inches high, then hand-snapped to harvest 7½-inch spears. Immediately after harvest the asparagus is hydro-cooled and stored in forced-air coolers, then packed and shipped.
North Bay Produce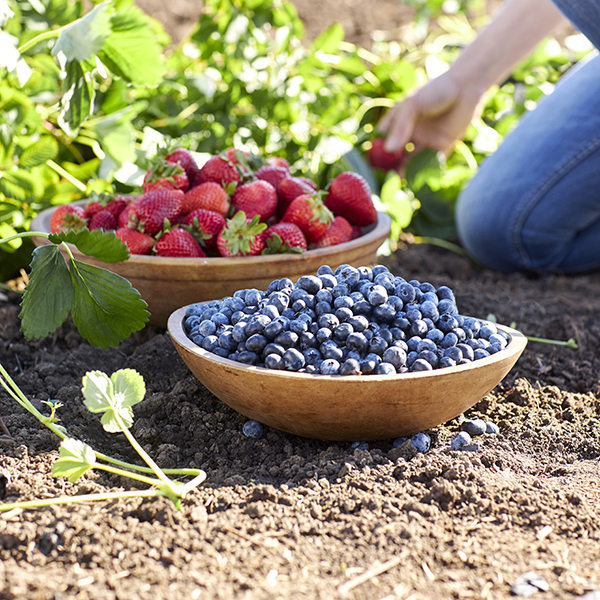 North Bay Produce in Traverse City, Michigan, is a grower-owned cooperative of small farms, some owned and operated by second-, third-, even fourth-generation farmers. This grower provides Fresh Thyme with blueberries as well as other sustainably grown produce.
Riveridge Produce Marketing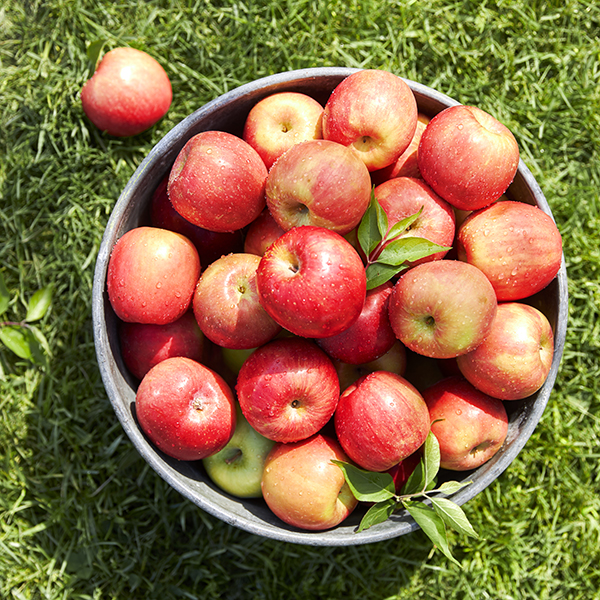 In nearby Sparta, Michigan, the heart of apple country, Riveridge Produce Marketing is a vertically integrated apple grower/packer/shipper/marketer that represents one-third of Michigan's fresh apple crop. Riveridge Produce, led by founder Don Armock, provides much of the apples for Fresh Thyme, while leading the way in new orchard technology.
Wisconsin Food Hub Cooperative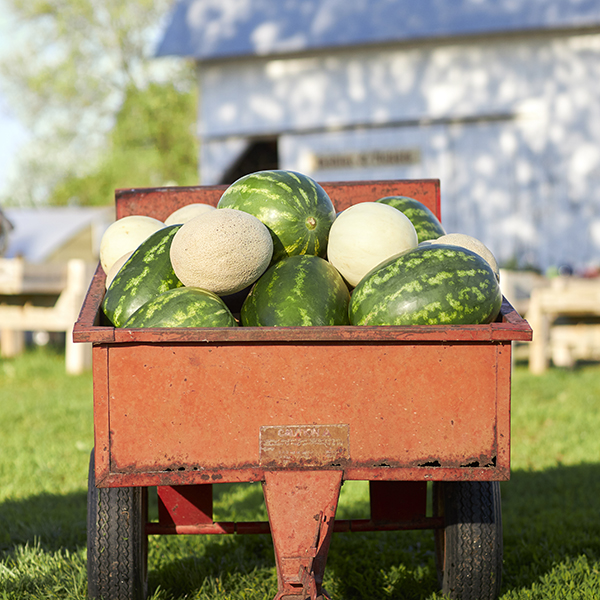 Across Lake Michigan in Wauconda, Wisconsin, is Wisconsin Food Hub Cooperative, a farmer-led cooperative owned by producers and Wisconsin Farmers Union. The consortium of 19 (and counting) small local farms produces a dazzling array of fresh vegetables—sweet corn, squash, melons, lettuce, beans, cucumbers, greens, and potatoes—for Fresh Thyme.
Borzynski Farms


Another Wisconsin-based supplier, Borzynski Farms, located in Franksville, began by supplying cabbages and now provides Fresh Thyme with additional vegetables as well.
INFORMATIONAL SIGNS AND PRODUCE STICKERS


Much of the produce at Fresh Thyme comes from the reputable farms noted above. The next time you pick out fruits and vegetables, you may even recognize the farms on the signage identifying a produce bin. Our customers are hungry for knowledge, and Fresh Thyme has a strong in-store signage system to give you nutrition data, food transparency, and cooking tips—all you have to do is pause and read.
Whether you shop at Fresh Thyme or another grocery store, you may have noticed adhesive labels on most of the fruits and vegetables. The tag stands for Product (or Price) Look-Up (PLU). These tags are applied to all produce in the U.S., and the numbers are consistent from one store to the next.
You may think the numbers on PLU tags are only used for scanning during checkout, but it turns out they can tell you more than just the price. The codes also tell you how that fruit or veggie was grown. Here's how to interpret PLU codes:
A four-digit number beginning with a 3 or 4 identifies non-GMO The fruit or vegetable may have been grown with chemical pesticides and fertilizers but is not a genetically modified organism (GMO).
A five-digit number beginning with an 8 indicates that the produce is BE or bioengineered, meaning that it is a GMO. You won't find an 8 prefix on produce atFresh Thyme; we don't knowingly sell GMO produce.
A five-digit number beginning with a 9 indicates the produce was grown with USDA certified organic practices and is certified non-GMO. Any pesticides or fertilizers applied are from natural substances in compliance with all USDA guidelines and rigorous standards. As you might expect, we have a lot of codes starting with 9 in our stores!
Here's an example: In the U.S., small lemons are labeled 4033 and large are 4053. Small organic lemons are coded 94033, and large are 94053. You will often see a 9 as the first digit of our PLU codes at Fresh Thyme—some of our customers even hunt for the 9 first as part of their shopping process. Other organic products may sport a green or black circle featuring the words "USDA Organic" across a field. A butterfly logo signals a Non-GMO Project Verified food.
PARTING THOUGHTS


Fresh Thyme is committed to offering its customers the freshest fruits and vegetables, grown responsibly and sustainably. We partner with like-minded Midwestern farmers to bring you quality, affordably priced produce that is safe and delicious for your family. Our knowledgeable Produce Department employees can answer your questions about particular fruits, veggies, or herbs. We want you to have confidence in everything you buy from Fresh Thyme, and we are here to help!