Author: Fresh Thyme Market
Heart-Healthy Pantry
Ready to make your pantry work a little harder for your health? Here are some strategies.
Pantry. The word conjures images of Downton Abbey and an expansive room filled to the brim with cooking essentials. Today's pantry is likely to be more modest—like a closet or cupboard—but no matter the size, the pantry continues to play an essential role in any household where cooking occurs.
The pantry is where you get the goods—everything from canned goods and baking supplies to condiments and beverages—to prepare a meal. It's an indispensable ally of every cook, especially those throwing a meal together on the quick (pretty much all of us!). But the desire for ease and convenience sometimes leads to stocking less-healthy pantry staples, like cookies, chips, and ready-made desserts. Convenient, yes. Good for the heart? Hardly.
Ready to make your pantry work a little harder for your health? Here are some strategies.
SNACKS
Take a look at each item in your pantry and consider whether there's a healthier alternative. Start with the snacks. For example, standard potato chips could be replaced by Fresh Thyme Sea Salt Roasted Seaweed, lightly salted Calbee Snapea Crisps, or no-salt-added Sweet Potato Vegetable Chips. Or, if you really want to stick with potato chips, try Boulder Canyon Kettle Cooked Potato Chips. They're made with avocado oil, a heart-healthy fat.
Peanut butter is another pantry staple most people can't live without. But healthier alternatives exist, like Fresh Thyme Unsalted Peanut Butter. Other options include fresh ground cashew, peanut, or almond butter or unsweetened and salt-free Once Again Almond Butter.
Fresh Thyme also makes it easy to satisfy your sweet tooth with heart-wise Larabar snacks in flavors such as cherry pie, blueberry muffin, and carrot cake. Another easy switch is to use dark chocolate baking chips in place of milk chocolate chips. Dark chocolate contains more flavanols, which can have a positive effect on vascular health.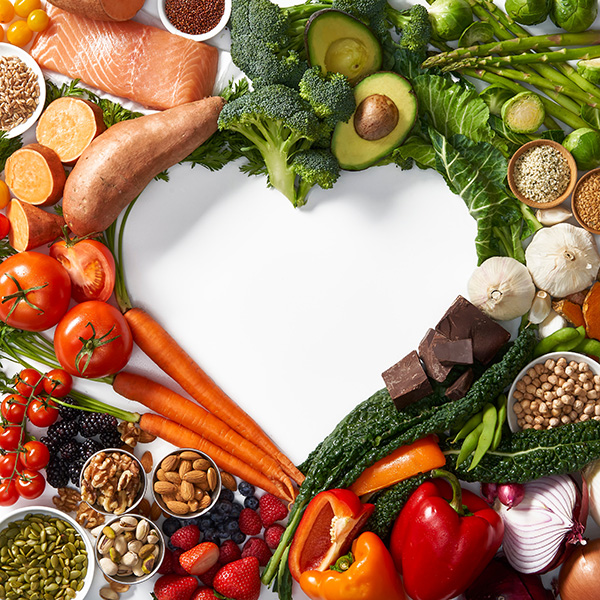 WHOLE GRAINS, CEREALS, BREADS, AND FLOURS
Once you've tackled snacks, move on to other pantry items like cereals, breads, and baking supplies. White rice, an old standby, can be readily switched out by long grain brown rice. Another alternative with more protein than rice yet all the essential amino acids is quinoa. It's available at Fresh Thyme in white, red, and tricolor.
Refined pasta, which people most commonly consume, also has lots of healthier alternatives. Fresh Thyme carries pastas made from brown rice, chickpeas, edamame, lentils, gluten-free corn and quinoa, or whole wheat. Similarly, you can replace pancake mix with Kodiak Cakes high-protein pancake mix for more protein and fiber. Cut out sugary cereals and stock up on healthful steel-cut oatmeal or gluten-free organic cream of buckwheat. Switch out salted nuts for sunflower kernels roasted with no salt.
When it comes to breads, your choices are nearly endless, including gluten-free, organic, multigrain, whole grain, and reduced sodium 7-grain bread. And that bleached white flour sitting on the shelf? It's missing the fiber found in alternatives like almond flour (which, by the way, is also rich in monounsaturated fat to help reduce cholesterol). See more flour swaps here.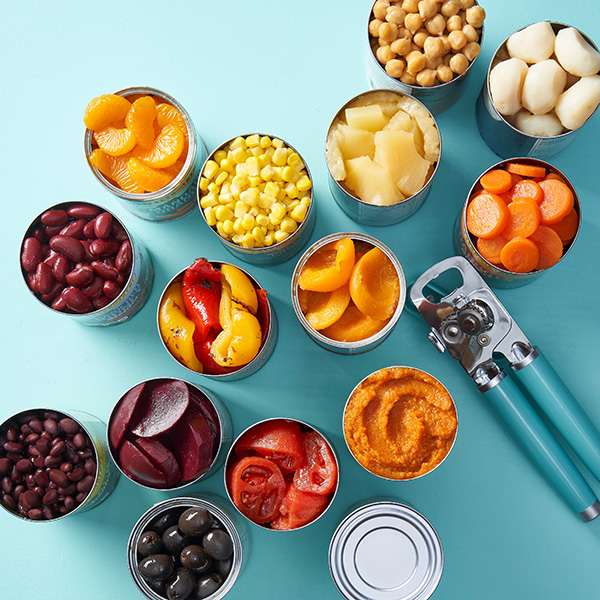 FRUITS AND VEGETABLES
Traditionally, pantries were located directly off the kitchen for ease and accessibility and along a north-facing wall to facilitate the storage of perishable produce. Indeed, fruits and vegetables remain integral parts of the kitchen pantry. While the refrigerator plays an important role for storage of many fruits and vegetables, a cool kitchen pantry makes a fine home for squash, onions, potatoes, and garlic.
Many fruits and vegetables come prepackaged in cans and jars for longer shelf life and ready-to-use convenience. Look for fruits packed in their own juices or labeled "No Sugar Added," such as this red grapefruit. As for vegetables, Fresh Thyme stocks plenty of healthful options, ranging from no-salt-added diced tomatoes to no-sugar-added sweet corn. Keep in mind you can always filter your shopping list on the Fresh Thyme website by clicking on search functions such as "gluten free," "heart wise" and "no sugar added."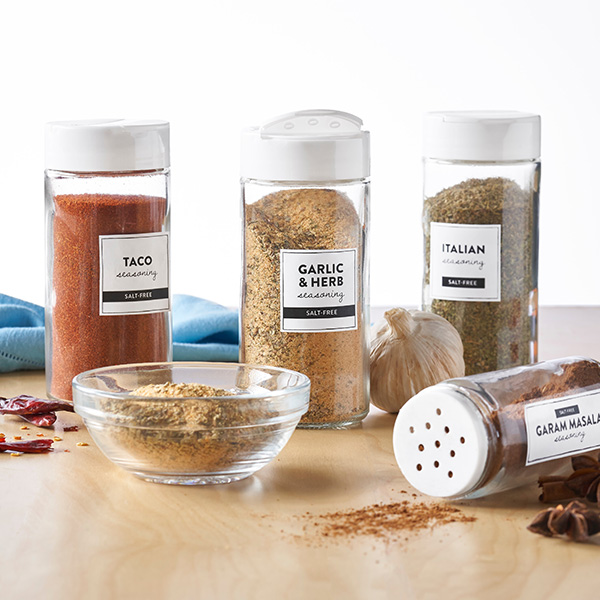 SPICES
Variety may be the spice of life, but too many of us rely on one seasoning: salt. Why not try a salt-free spice or seasoning instead? One option has 24 herbs and spices—and no salt. Fresh Thyme carries plenty of salt-free or low-salt offerings, not to mention every kind of spice and seasoning you can imagine, from the common to the exotic. Fresh Thyme also offers both fine grain sea salt and coarse grain sea salt.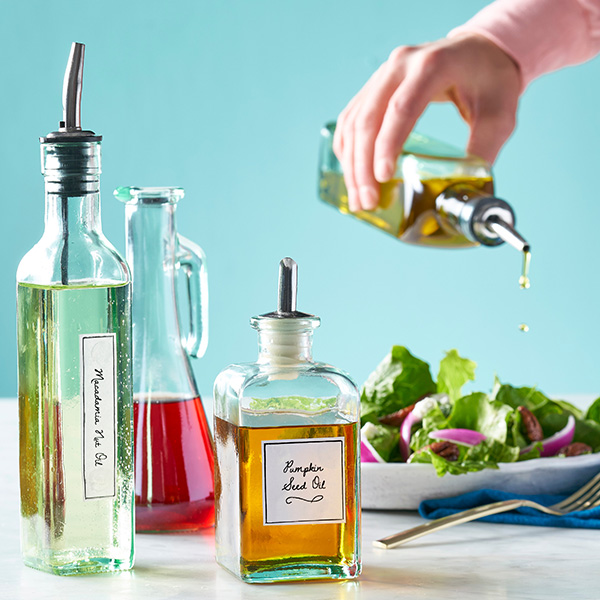 COOKING LIQUIDS AND SAUCES
You can really switch-hit your way to a healthful home run by choosing the right liquids and sauces. Round the bases by replacing chicken broth with vegetable broth for a greater mix of vitamins. Uncover healthier options for cooking oils; for example, avocado oil is a good source of both lutein for eye health and oleic acid to reduce blood pressure. Avocado cooking spray is also available to coat pans or vegetables before cooking.
At Fresh Thyme, you'll also find plenty of heart-healthy oils lower in saturated fat and higher in monounsaturated and polyunsaturated fats. (Bear in mind, these oils are considered good for heart health when used in moderation and as a replacement for another fat source, not as an addition). Fresh Thyme choices include:
Canola Oil (browning, searing, panfrying)
Peanut Oil (browning, searing, panfrying, stir-frying, baking)
Almond Oil (browning, searing, panfrying)
Sesame Oil (sautéing, sauces)
Sunflower Oil (browning, searing, panfrying)
Grapeseed Oil (stir-frying, baking)
Walnut Oil (dressings, dips, marinades)
Of course, you'll want to have extra-virgin olive oil on hand—not just for cooking and dipping purposes but also for salad dressings. For even more health benefits, try our garlic-infused olive oil. Pair it with organic red wine vinegar, organic white wine vinegar, or organic balsamic vinegar for a heart-healthy salad dressing not loaded with salt or sugar. Or experiment with less-common vinegars such as organic rice vinegar and oak-aged champagne wine vinegar. Ooh-la-la! C'est magnifique!