Author: Fresh Thyme Market
Naturally Sweet Baking
Satisfy Your Sweet Tooth with These Sweet Options
Healthier baking doesn't need to mean compromising on taste. At Fresh Thyme Market, you'll discover a range of ready-made desserts that give a nod to good health. Or if you do the baking, you'll be glad to know you can slim down the sugar and bulk up the nutrition with healthier flours and other ingredients from Fresh Thyme.
BAKING WITH NATURAL SWEETENERS
Oh, how sweet it is! Or if you avoid sugar, you might think, How sweet it was. But that doesn't need to be! There are plenty of natural options to sugar, among them honey, maple syrup, molasses, agave nectar, and even brown rice syrup. They provide more nutrients than sugar and, in some cases, more health benefits. For example, honey and pure maple syrup both contain antioxidants, as well as prebiotics for digestive health. Keep in mind, though, that these natural sweeteners are still high in calories and act the same way sugar does, so continue to use them in moderation.
You can also sweeten baked goods with fruit such as dates, figs, or overripe bananas. Unlike sugar, these fruits provide fiber, vitamins, and minerals. To use figs, soak them in water to soften, then puree with 1/3 cup water before adding to your recipe to reduce sugar or replace it entirely. Dates can replace up to half the sugar in a recipe; puree 1 cup pitted dates with ½ to 1 cup hot water to make a paste. Or chop them and add directly into a batter. Overripe bananas work well for banana bread, and you can freeze them until you're ready to bake.
Here's something else to consider: Baked goods don't necessarily taste better just because they're sweet. In fact, pastry chefs will tell you a little less sweetness allows you to enjoy the nuances of some baked goods, particularly those made with nuts. Tip: Toast nuts before baking; toasting amplifies the nuts' flavor and allows you to use a smaller amount, saving on calories and fat. To toast nuts, spread them in a shallow pan and bake for 5 to 10 minutes in a 350°F oven, stirring once or twice.
Another way to lower the sugar content of baked goods is to cut the sugar by one-third or one-half and increase natural flavorings like almond extract, vanilla extract, and cocoa powder to enhance flavor. In addition, spices such as cinnamon, cloves, ginger, nutmeg, and star anise can replace some sugar in baked fruit desserts.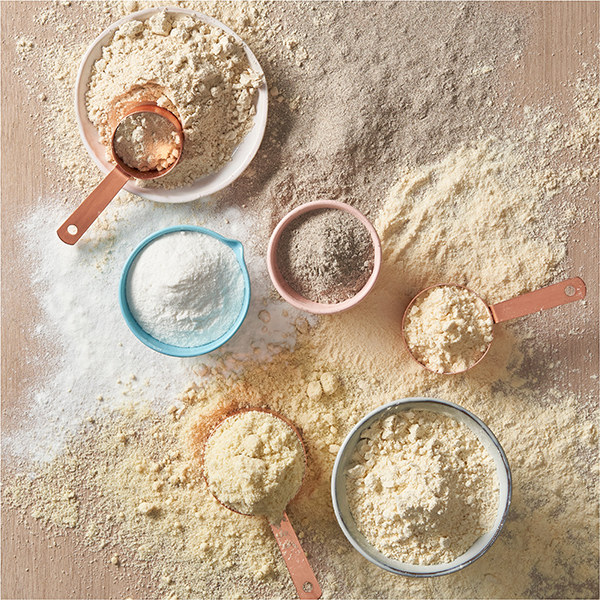 ALTERNATIVE BAKING FLOURS
Where would baking be without flour? You can look beyond bleached white flour and discover good-for-you alternatives, such as gluten-free flour, grain-free Paleo flour, organic whole wheat flour, and more. The choices are many, including flours ground from a variety of grains, seeds, legumes, nuts, and even vegetables.
Why consider alternative flours? Some alternative flours are gluten-free, sidestepping possible wheat allergies. Additionally, alternative flours contain the fiber, nutrients, and healthy fats missing from white flour. The refining process strips the fiber and nutrients from white flour, and while some nutrients, such as iron and B vitamins, are added back into enriched flours, the healthful fiber is not. The higher fiber content of many alternative flours aids digestion and adds to the feeling of fullness, helping satiate hunger.
The amount of increased protein, fiber, and healthy fats differs by type of flour, so read food labels to determine the nutritional value of the flour you want to use. Bear in mind that substituting an alternative flour can affect the texture and moisture content of baked goods. Also, the swap ratios can differ. For example, 1 cup white flour is replaced by 1 cup almond flour, 1/5 cup oat flour, or 3/10 cup rice flour. Tip: Increase shelf life of any flour by refrigerating or freezing it in an airtight container; bring it to room temperature before using.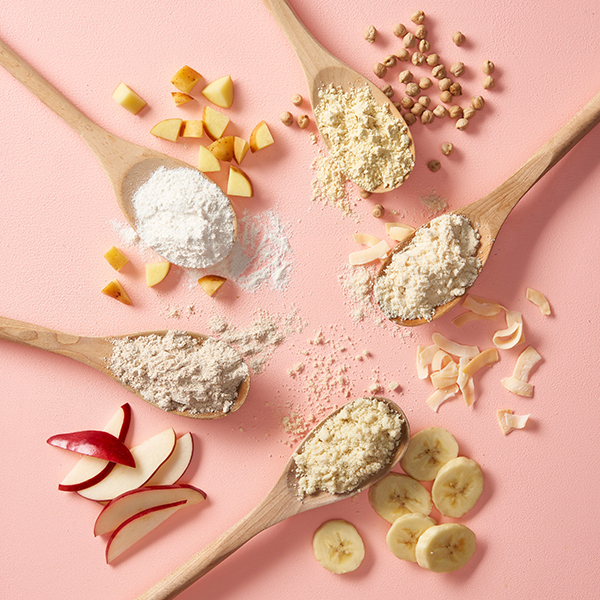 You'll find many baking flour options at Fresh Thyme, including organic, enriched, unbleached, grain-free Paleo, and gluten-free flours. Our flours are made from a wide range of plant sources, each with different benefits:
• Almond (low carb, protein, calcium, vitamin E, gluten-free)
• Buckwheat (gluten-free, high fiber, vitamins)
• Cassava (gluten-free, vitamin C, lower calories)
• Chickpea (folate, fiber, B vitamins, gluten-free)
• Coconut (low carb, gluten-free, fiber)
• Dark rye (potassium, fiber, magnesium, iron, vitamin B6)
• Millet (fiber, protein, magnesium, iron)
• Oat (protein, soluble fiber)
• Quinoa (fiber, essential amino acids)
• Brown rice (gluten-free, high fiber, protein)
• Sorghum (gluten-free, protein, fiber, iron)
• Spelt (fiber, vitamin K)
• Whole wheat (protein, fiber)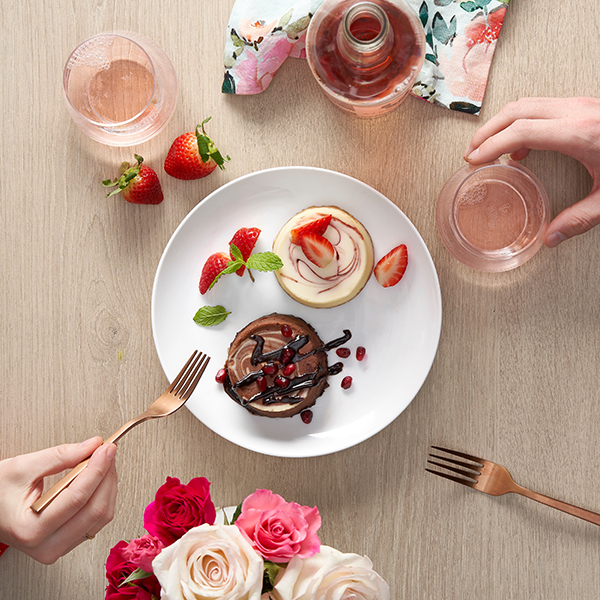 DESSERTS
Fresh Thyme offers loads of tasty desserts, including some decidedly on the healthier side. Our Bakery provides 8 feet worth of space for gluten-free cakes, pies, breads, and bagels. We also offer baked goods for those following a plant-based diet.
In addition to fresh-baked goods, Fresh Thyme carries a large selection of premade dessert options. Top our angel food mini dessert cups with fresh fruit or sugar-free strawberry glaze. Sample dark chocolate dessert hummus or no-sugar-added New York cheesecake. Also, don't miss out on gluten-free flax mini muffins, vegan muffins in blueberry and chocolate chip flavors, and chocolate, strawberry, and mango dairy-free frozen bars made from oat milk.
RECIPES
Look to Fresh Thyme for great recipes for a variety of healthful dishes, including some fabulous desserts like Grilled Peaches with Balsamic and Mascarpone, Fruit Fries, Fruity Lemonade Pops, Grilled Pineapple with Coconut Ice Cream, Watermelon-Strawberry Shaved Ice, Vegan Pumpkin Pie, and Chocolate-Orange Flourless Cake.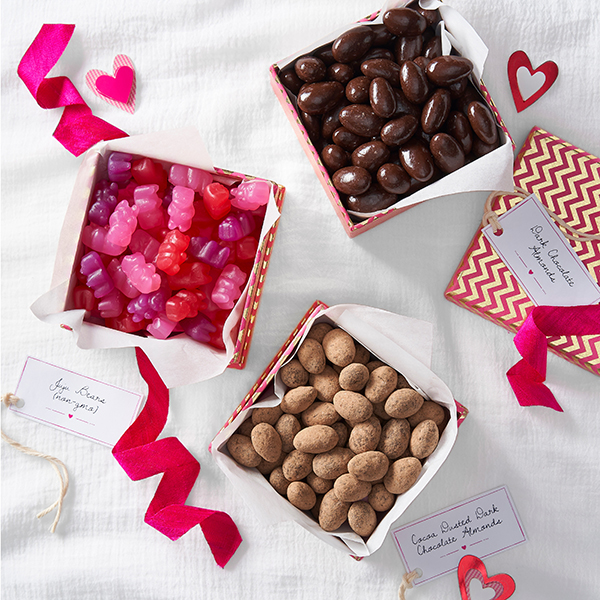 BULK CHOCOLATES
Put together a decadent Valentine's gift package with mouthwatering chocolates from Fresh Thyme. You'll discover some great chocolate deals in the Bulk Department, such ones for Sea Salt & Turbinado Sugar Dark Chocolate Almonds, Cocoa-Dusted Dark Chocolate Almonds, and non-GMO Juju Bears, shown. Explore a variety of concoctions that pair dark chocolate with almonds, cashews, cherries, cranberries, espresso beans, ginger, malt balls, pecans, or raisins.