Author: Fresh Thyme Market
Plant-Based Frozen Foods At Fresh Thyme
It's easier than ever to go meat-free when you shop at Fresh Thyme.
PLANT-BASED FROZEN FOODS


It's easier than ever to go meat-free when you shop at Fresh Thyme. Options abound—and sometimes in unexpected places. Dare we say try the Frozen Foods aisle? Yep, it's bursting with plant-based food options. So whether you're cutting down on meat or avoiding it altogether for dietary reasons or as a lifestyle choice, Fresh Thyme can keep you well supplied with tasty meat alternatives you will actually enjoy.
Better is the operative word. Better selection. Better taste. And much of it comes conveniently packaged in the Frozen Foods aisle.
Air Fryer Foods


Handy air fryers are claiming space on more and more kitchen countertops for a couple of reasons. For one, they cook food fast. More importantly, air fryers cook food more healthfully, providing a lower-fat alternative to frying. How? By continually circulating hot air to make food crispy with little or no cooking oil.
And while an air fryer is a go-to for such foods as chicken wings, chicken nuggets, and French fries, it can also be a valuable ally with other frozen foods, particularly the plant-based frozen foods found at Fresh Thyme Market. It's all pretty simple: Just preheat the air fryer, oil the basket, and load your frozen food. How easy is that?
What plant-based frozen foods cook well in an air fryer? Potato skins, fries, and onion rings for sure. But get a load of some of the other plant-based Fresh Thyme frozen foods you can prepare with an air fryer: plant-based mandarin orange crispy chick'n, veggie burgers, meatless turk'y burgers, 7-grain crispy tenders, meatless nuggets, fishless filets, meatless meatballs, meatless buffalo dippers, battered vegetables such as broccoli littles and spinach littles, and more.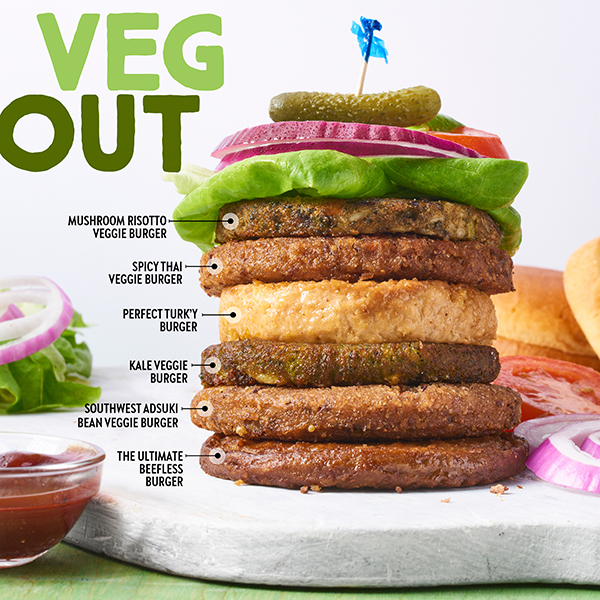 Burger/Patty Options


Burger lovers, take heart: Forgoing meat does not mean forgetting taste. Not anymore. When it comes to burgers, the selections of plant-based meat alternatives in the Fresh Thyme Frozen Foods aisle continue to get bigger—and better!
Fresh Thyme is the place to go for plant-based burger options. Ever hear of California Veggie Burgers, complete with carrots, peas, broccoli, and spinach? We've also got All American Veggie Burgers, Ultimate Beefless Burgers, Perfect Burgers, and Perfect Turk'y Burgers. For a little more kick, try Spicy Thai Veggie Burgers, Asian Veggie Burgers, Meatless Spicy Patties, and Southwest Adzuki Bean Veggie Burgers.
Plant-based burgers showcase creative ways of maximizing taste and nutrition. That's why Fresh Thyme offers so many plant-based options. We have burgers made with beans and quinoa: Black Bean Quinoa Veggie Burgers; mushrooms: Mushroom Risotto Veggie Burgers; greens: Kale Veggie Burgers, Super Greens Veggie Burgers, Hemp & Greens Veggie Burgers; and root vegetables: Root Veggie Veggie Burgers, Sweet Heat Beet Veggie Burgers.
Cook up any of our frozen plant-based burgers, then place them on a Fresh Thyme Bakery roll with your favorite toppings and condiments. The result is a trip to burger heaven! Tip: Substitute fresh kale or spinach for iceberg lettuce for a greater nutrient punch.
Vegetarian Bowls, Sides, and Cauliflower-Crust Pizza


Fresh Thyme offers a choice of frozen bowl meals, including plant-based options with real substance to tame your hunger. They're satisfying yet nutritious, so you can eat your fill without remorse. Choices include Gluten-Free Smoked Gouda Mac & Cheese and Chickpea Macaroni and Cheese Bowl.
For sides, try organic Sweet Potato Fries, all-natural Sweet Potato Puffs, or all-natural Roasted Garlic and Cracked Black Pepper Potato Puffs, and potato perogies in various flavors such as fried onion, Cheddar, and Monterey Jack jalapeño.
Pining for pizza? Make your pies not only vegetarian but also gluten-free and healthier. Try our Caulipower cauliflower pizza in two vegetarian varieties, Veggie and Three Cheese, both made with a cauliflower crust. Or make your own pie by stacking a frozen cauliflower crust with as many vegetables as you like. Open the doors to variety and make any kind of pizza, from breakfast to barbecue.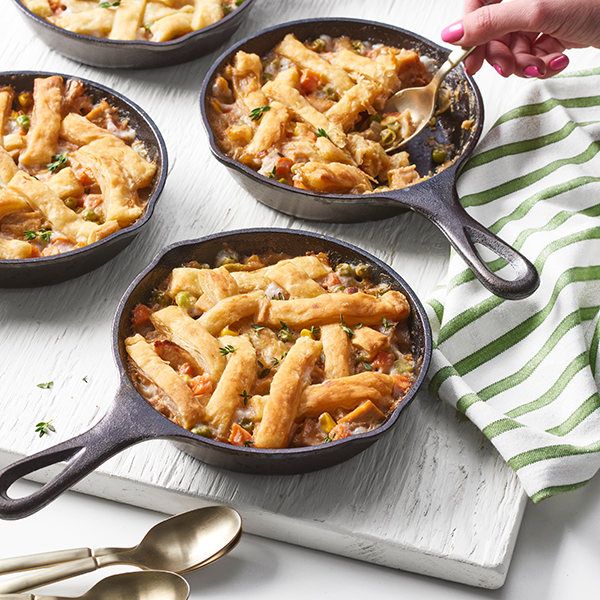 Surprising Frozen Food Hacks


The Frozen Foods aisle at Fresh Thyme can be one of your best friends when it comes to maximizing time and minimizing effort. Don't believe us? Think how useful frozen fruits are when you make a smoothie. Or how utterly useful frozen veggies are when you put together a hearty soup.
There are other frozen foods hacks you might not have considered. Thaw out some fish sticks and use them to make fish tacos. Make a kinder-to-your-waistline rice dish with riced cauliflower stir-fry or one of our cauliflower rice mixes: Curried Riced Cauliflower, Baja Style Riced Cauliflower, and Sesame Citrus Riced Cauliflower.
"Beef up" a pasta sauce with beefless ground. Heat up your choice of veggie burgers, then break them into pieces to add to a hearty salad. As a substitute for chicken parmigiana, serve meatless nuggets and cheese with pasta. Use sweet and sour porkless bites as an appetizer instead of Vienna sausages.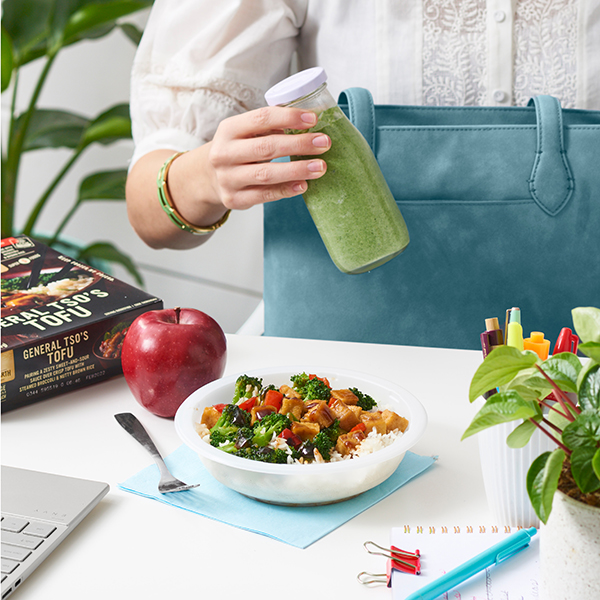 Guilt-Free Frozen Meals on the Go


If you find yourself on the run, it's good to know Fresh Thyme has guilt-free frozen meals you can heat up and take with you for breakfast, lunch or dinner. Enjoy burritos, such as our organic Bean & Cheddar Burrito or gluten-free, non-dairy Bean & Rice Burrito. If you're looking for more variety, try Big Sur Vegan Breakfast Burrito, Southwestern Veggie Egg White Burrito, or Veggie Baja Breakfast Burrito.
We also have gluten-free Vegetable Egg Rolls and Power Veggies Flatbread Breakfast Sandwiches made with egg whites, roasted potatoes, and Cheddar cheese.